Let me preface this by saying, to prevent one post from being a million pages long, I will break this up into different posts. There is a lot to cover!
So, if you have read even a handful of sentences from probably any one of my posts, you've probably gathered that Buster has some serious allergy problems. That's because he does, and that's because I talk about it a lot. Allergies are difficult to deal with!
Before I left the previous clinic I worked at, I decided to have him allergy tested. Allergy tests are not cheap by any means (they start around $300 for the better, more thorough panels), and there are a lot of pros and cons to them. They are known to give false positives. There are two types of blood tests: RAST and ELISA. Out of those two types of blood tests, ELISA is the most commonly used by vets and considered to be the more accurate; this is what Buster had done. There is also intradermal allergy testing. This is the most accurate, but also the most expensive option and usually only done by a dermatologist. Dogs, just like people, can also outgrow allergies and become allergic to new things throughout their lifespan. Many people that allergy test their dog, especially really early on, choose to do it at least one or two more times throughout their life.
At the time, Buster's skin (mainly on his paws) had gotten so bad that just looking at them made me hurt. They were red and swollen, and all of the fur had fallen out.  He was biting and licking them and had created a couple oozy spots. He was on an antihistamine, probiotics, a fish oil supplement, a steroid, antibiotic, and powders and sprays for his feet. I gave him foot baths and wiped his feet off everytime he came in from being outside, but nothing was helping. I figured that even with the false positives I know the blood test can give, I would at least have a decent baseline for what he is allergic to. In the end, I'm glad I did it, and I feel it is pretty accurate to what I know and suspect some of his allergies are.
Are you ready for his laundry list of allergies?
Bluegrass/June grass
Orchard grass
Redtop grass
Bahia grass
Ragweed
Lamb's quarters (a type of weed)
Cocklebur
Juniper/Cedar trees
Walnut trees
4 different types of fungus
House dust
Beef
Venison
Eggs
Rice
Brewer's yeast
…He is very borderline allergic to white potato, pork, lamb, and poultry mix (chicken and turkey)
Wool
Cotton
And last but not least, fleas
Yeah. That is what we are working with here.
A lot of things changed when I got that list. I went out and bought blankets for his crate made out of synthetic materials. I had to throw out (or set aside for only Kudo to have) a few bags of treats. And then the real fun began… I had to try to find a new food. At this point, he was on Orijen Six Fish. It was the "safest" food we had ever had him on, but he was still having serious allergy problems on it.
At that time, Acana had just come out with their Singles line. So, we tried Acana Duck & Pear.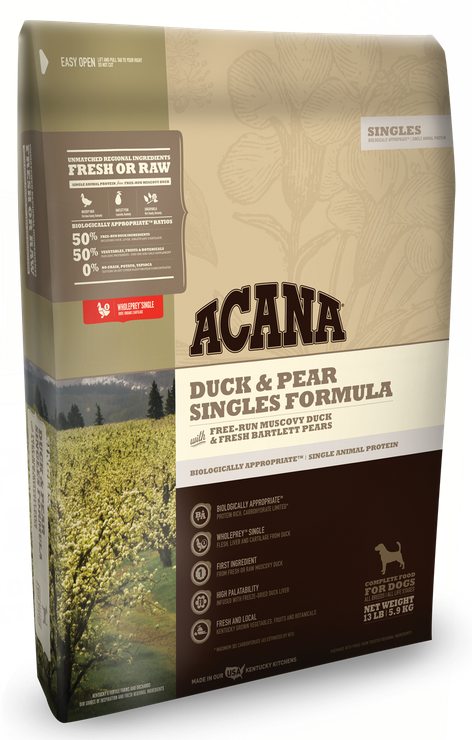 I was ecstatic to try this. This was created specifically for allergy dogs. It's whole selling point was that it has one protein source and no eggs, dairy, chicken, or fish. I thought this would solve our problems.
Buster definitely loved it and ate it all, but after only a few weeks, it seemed like his allergies were getting worse. His feet kept getting more and more red, and he kept shaking his head and biting at his paws. To make matters even worse, at this point, we had to leave him at the boarding facility while we went on our honeymoon. He had previously been on other foods (like the Orijen Six Fish) with several of the same ingredients, except for the potatoes and oats. I came to the conclusion that even though the allergy test said he was borderline positive for white potato, that or the oats is what he had to be reacting to. So, I decided to put him back on the Orijen Six Fish while we were on our honeymoon. The boarding facility was also very good at applying the several powders and sprays onto his feet and made sure he got all of his oral medications. His feet actually looked a little bit better when we picked him up! And then when we got home, his feet started getting worse again. I know the environmental allergies are probably his biggest problem, but I can't completely change his environment. My husband did his best to rip out all of the ragweed and other suspicious weeds in our backyard throughout the summer. I figured if I could put him on the best food for him that he doesn't have an allergic reaction to, then his immune system will be better off trying to fight the environmental allergens.
So, I searched and searched for a high quality dry food that met my standards that didn't have any of the ingredients that he was positive to or borderline positive to on his allergy results. My local pet food store owner even made a copy of his allergy test results and helped me search.
I could only find two foods on the market that met that criteria:
Canine Caviar Open Sky Grain Free ALS Dinner
and
Natural Balance Limited Ingredient Diet Legume and Duck Meal

Neither of these two foods made me jump for joy. I wasn't happy with the Natural Balance's guaranteed analysis (particularly the too low protein content and too high carbohydrate content). I also wasn't happy that it included beet pulp.
The Canine Caviar Open Sky was definitely the better of the two options and started to look pretty good. It seemed to have a good protein content and not as high of a carbohydrate content. They have good ethics (all of their meat is well sourced and free-range, etc). I do also like that they add more natural and herbal supplements, like yucca root, to help with overall health.
But… I couldn't get the Canine Caviar. My local pet food store doesn't sell it, and the owner told me that I would be better off ordering it from a reliable source online, because it would be cheaper that way. I didn't know anyone who fed it though, and I couldn't find many reviews, especially pertaining to dogs with severe allergies.
So, I kept Google searching for the "best diet for dogs with allergies," and "limited ingredient diets," etc. I finally started searching about raw diets, because in all of my research, everyone loved raw diets for dogs with allergies.
I walked into my local pet food store one day at my wit's end. It had been over a month, and I couldn't find anything Buster could eat. His paws were looking worse and worse. I mean, I hate it when my allergies act up, so I could only imagine how he felt walking on his four sore feet. All of the high quality dry foods on the market still either have multiple protein sources, or eggs, or potatoes, or chicken fat. Nothing was meeting my standards. I took the plunge and decided to order a bag of Stella&Chewy's Duck Duck Goose. I figured it had one protein source, no grains, and fruits and veggies. I know Buster does well on duck, so I figured it could only help his allergies… except for the whole, it's a raw food and completely different from what I'm used to feeding, and it scared me, thing.
So, I bought a bag and brought it home and put a patty into Buster's food bowl. He went CRAZY! He kept jumping around, spun around in circles, barked, and ran full speed to where his food bowl lives. He still acts that way for every meal, and it has been months now. His excitement for his food is about on the same level as how excited he gets when he gets a new toy; that's pretty crazy… in a good way.
…I'll post more about his start on the raw diet next time!